Facilities
This hotel has been certified as suitable for cycling and offers a repair center, route information and storage

Thanks to these spaces in nature and in the open air, our visitors, both tourists and residents, can enjoy a tranquility and calm that is so desired at times, and enjoy a very pleasant temperature, even on the hot summer days of our city. being many people from Cordoba who come up and visit us looking for the coolness of our nights on the terrace, to have some tapas accompanied by local liquors. Next to the pools we have spaces set up for hammocks where you can sunbathe and also a grassy area, where the little ones can play and the older ones can rest and have a drink at the Chiringuito bar, where we also serve tapas and set menus. The hotel has large garden areas and ample parking that is offered to all our customers free of charge. Pool prices for people not staying (Call for inquiries)
Free wi-fi in all the hotel.
Meeting room with audiovisual media.
Café.
Restaurant and banquet rooms.
Free bicycle storage service in an adapted room (subject to availability)
Palm terrace – old garden of the main house.
Spaces set up for events and meetings.
Movistar plus in all rooms.
2 swimming pools open seasonally, where you can breathe a very cozy and above all calm atmosphere.
Children's pool entrance: during the week
Adult pool entrance: weekdays
Seasonal chiringuito bar in garden areas and swimming pool.
Free parking and charging electric cars.
Babysitting service (on request and for a fee).
Soccer field for matches between friends (on request and payment).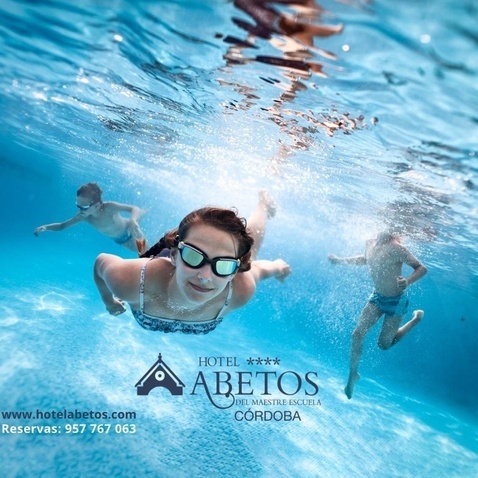 Hotel Los Abetos has been certified with the seal Bikefriendly.
Hotel Finca Los Abetos has services aimed at the needs of cyclists, so that they can store, repair and wash their bicycles in an area adapted for this. The location of the Hotel makes Hotel Finca Los Abetos makes it perfect for accommodation for lovers of this sport and routes to fully enjoy the environment around us.

Whether or road routes for MTB Hotel Finca Los Abetos is the perfect place to enjoy the city of Cordoba, the Sierra and rest and chat about the day in outdoor facilities with fantastic views.

Bikefriendly is a quality seal, pioneer in Spain, which certifies tourist accommodation for cyclists.